Sustainability
A Herb Garden for Céline
Herbs are not only beneficial to add to many dishes, but they tend to also look good in the garden or around the house if only placed correctly. A herb garden doesn't always have to be a few different plants placed next to each other, looking disorganized and forgotten but, it can also become a real eye-catcher in the new kitchen, on a balcony, or in the garden, without taking up a lot of space.
In the first issue of 2nd Home, we would like to share a very creative and outdoorsy project with you. Celine is a 2nd-year Creative Business student and she has been wondering for weeks what to do with all of her herbs. Until now, they've only been standing on her windowsill, looking pretty miserable. That's why she called for the help of 2nd Home and, of course, we're here to help her – quickly and affordably!
KEY-POINTS
Name: Céline
Study: Creative Business
Nationality: German
Needs Help with: Storage of Herbs
Goal: Organized Herb Collection
Time: ± 3 Hours
Effort: ●●●○○
Difficulty: ●●●○○
When redesigning and pimping up your rooms or an item of yours it is very important to us to make sure that it fits you and your personality. To make sure that we know exactly how to create an item according to your wishes and your imagination, we create a mood board beforehand. A mood board is an assembly of different pictures, materials, and pieces of text that are supposed to portray a certain mood, look or feel that your item or room is supposed to radiate after the makeover.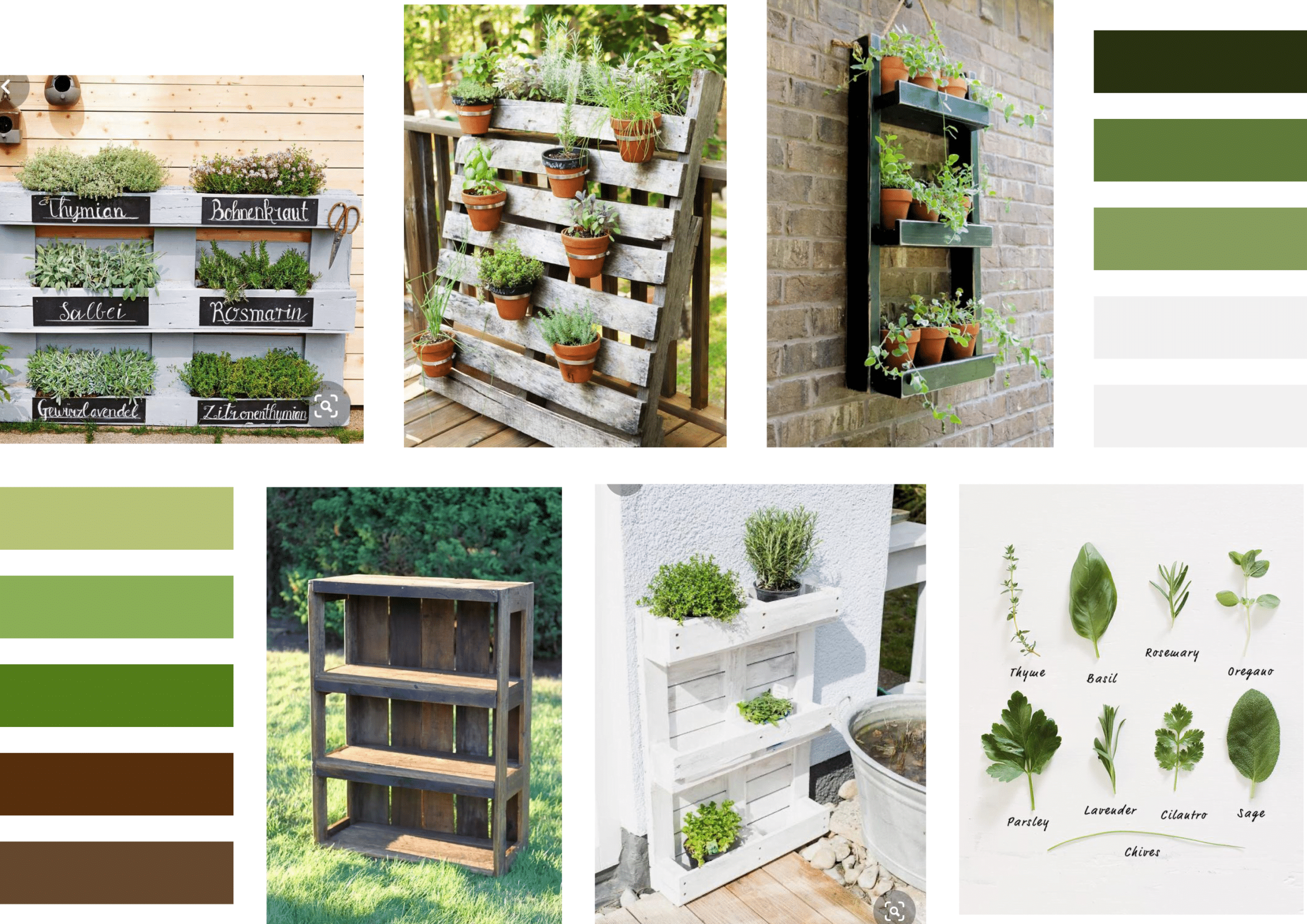 For Celine's project, 2nd Home decided to harvest some inspiration from inside and outside herb gardens in combination with Euro pallets. The team decided to stay with neutral outside and garden tones like greens and browns, as well as some white and grey tones. When creating a herb garden like this, you have the possibility to work with different pot and pallet sizes, as well as different colors and you can also choose to add signs/name tags for the different herbs.

Even though this project looks like a lot of work, you do not need a lot of materials, and neither do you need a lot of time. Since Celine already had a pallet, nails, a hammer, gardening gloves, and scissors at home, we only had to buy plant fleece, different kinds of herbs, potting soil, and wooden signs which you can all get at Intratuin in Leeuwarden. Furthermore, you might need a white marker to write on the signs. Celine got hers off of Amazon.
In order to create a beautiful herb garden that can be kept inside and outside depending on the season, you simply have to follow the following eight quick and easy steps.
1. Cover part of the pallet with a tarp & cut it to size
2. Hammer some nails in place (or use a staple gun for wood)
3. Cut the excess tarp off
4. Put some soil in the pallet
5. Dip the herbs in water
6. Place herbs in the pallet
7. Make some signs/name tags
8. Nail name tags on the pallet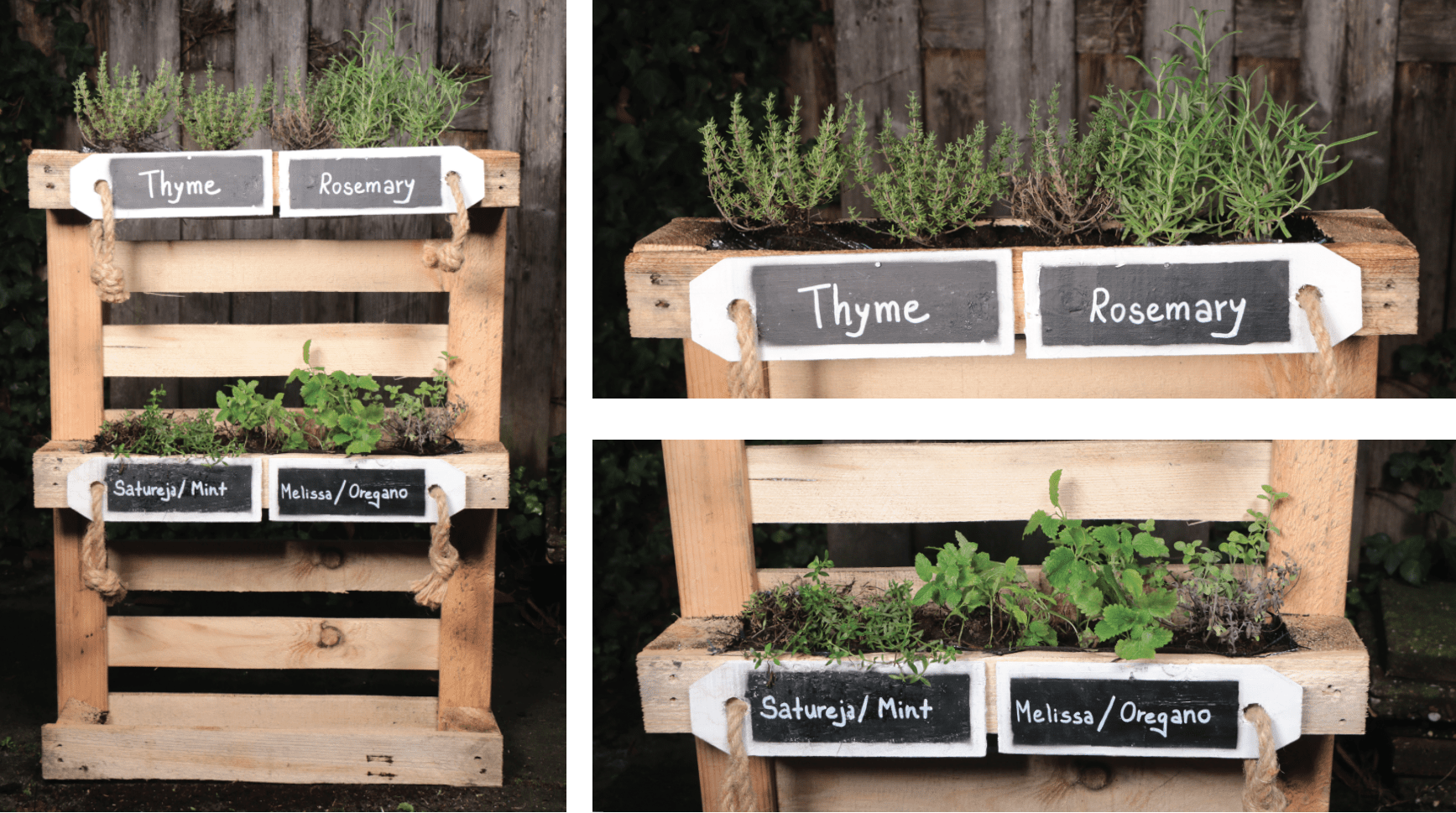 This is the final result. We hope you love it just as much as Celine does. This version of a herb garden creates a very special spot for the plants, making them look a lot more alive and happy than before, with a modern twist added to it. Have fun recreating and don't forget to send in your own ideas. See you guys next week!
---
DO YOU WANT TO PARTICIPATE?
Then send us a short video of you and your challenge for us to: