Student Life
How To
Hot Study Spot: Douwe Egberts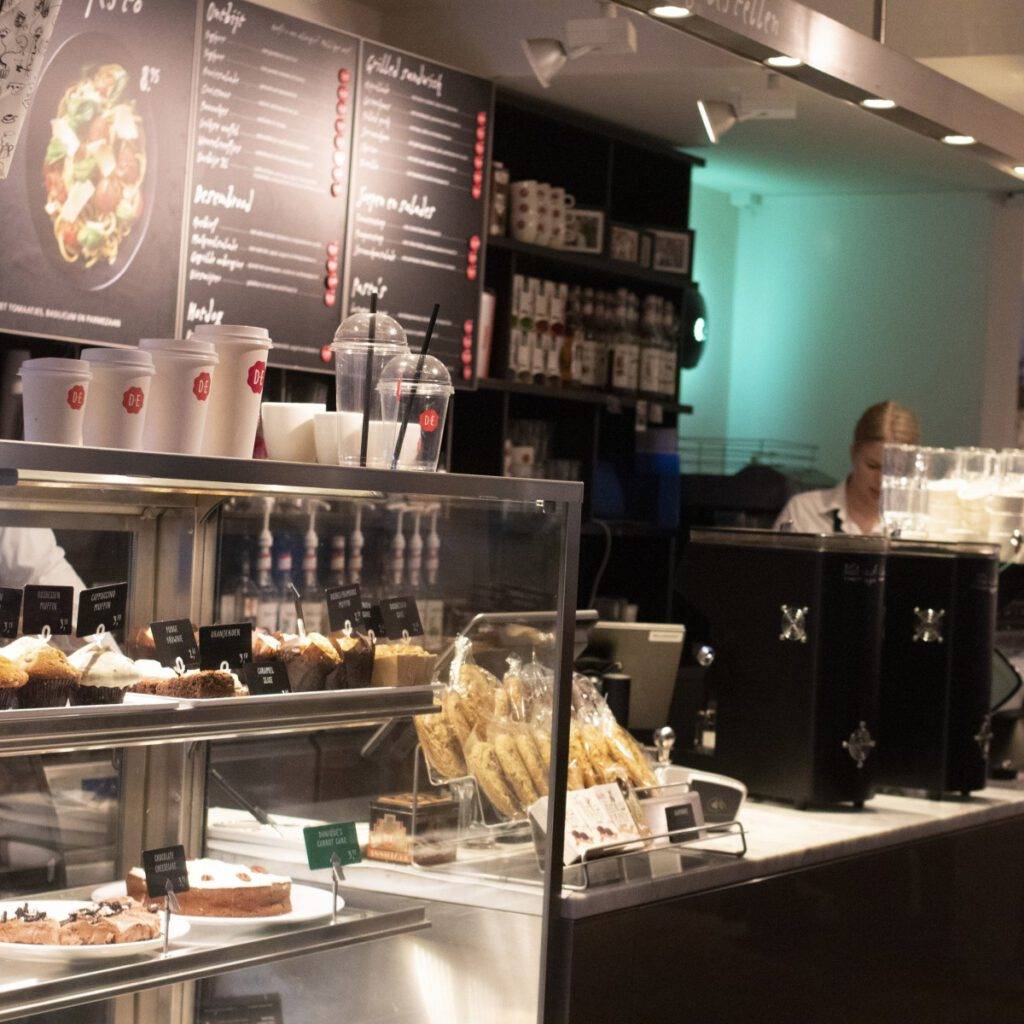 Study with Book or Laptop – Everyone's Welcome!
DOUWE EGBERTS
_____
HOT STUDY SPOTS: STUDY CORNER
Three different study spots in one? Give Douwe Egberts Café a try!
Whether you're working individually or in a group, you can choose the best environment for your work at this Hot Study Spot.
Next to the Wilhelminaplein, you will recognize the Douwe Egberts Café by its red logo and the awnings in the same bright colour. Walking through the doors you are greeted by a mixture of modern and rustic interior, and a cosy and comfortable atmosphere on the ground floor; this area is definitely made for individual studies. With many small tables, benches, and armchairs the ground floor, Douwe Egberts offers options to sit down and work on a report or review your study notes. Still, as this is the entrance area, it can get rather noisy and busy here as new guests enter and the baristas work on making drinks of all kinds. On the second floor, you will find a nice view of the square and, on Fridays, of the market atmosphere. On this floor you can find bigger tables for potential groupwork.
The newest addition to Douwe Egberts is their third floor – a highlight of this study spot. In an open and modern room, you will find tables for four to six people and comfortable couches. Lots of natural light combined with the bright interior creates a positive and comfortable atmosphere to work, and soft background music heard on all floors can help get you in the productive mood.
The only pitfall? Make sure your laptop is fully charged, because charging ports are a rarity. You might be lucky to find one conveniently situated, but don't count on it.
As for their menu, Douwe Egberts has you covered for all your study-fuel needs. A variety of coffee creations and food options including sweets, sandwiches, salads, soups, and pasta are available for a reasonable price. When it comes to Wi-Fi, Douwe Egberts makes it as easy possible to get online: just join their open guest network and you're ready to go; however, the strength and speed of your connection might vary based on your seating and the utilization.
Our tip for visiting Douwe Egberts: come here first thing in the morning, enjoy the cosy atmosphere, your first coffee, and the light background chatter to start off your study session right.
Overall, we rate Douwe Egberts with three and a half out of five coffee cups. The atmosphere and the opportunity to choose the most fitting seating spot for your needs is convenient and appreciated. Nevertheless, a few things take down the score of this hot study spot: charging spots are rather rare, especially so if it gets busy during the day, and it might be a bit too noisy for some people. Remember to bring your charger and headphones, and then enjoy the atmosphere and coffee and Douwe Egberts for your next study session.
What are your experiences with this Hot Study Spot? Share it with us on our social media accounts! Is your favourite study spot still missing on our list? Let us know and we might review it next!
KEY POINTS
_____
DOUWE EGBERTS
Address Ruiterskwartier 111
Opening Times Mon – Sat: 08:00 – 22:00
Sun: 10:00 – 22:00
Busy hours Weekdays: 10:00 – 15:00
Weekends: 11:00 – 16:00
Price range €€
Working style Group & Individual
Atmosphere 4,5/5
Quietness 3/5
WiFi 4/5
Coffee 4/5
Resources 2/5
Overall rating 3,5/5
Previous
Next