Student Life
How To
Hot Study Spots: NHL Stenden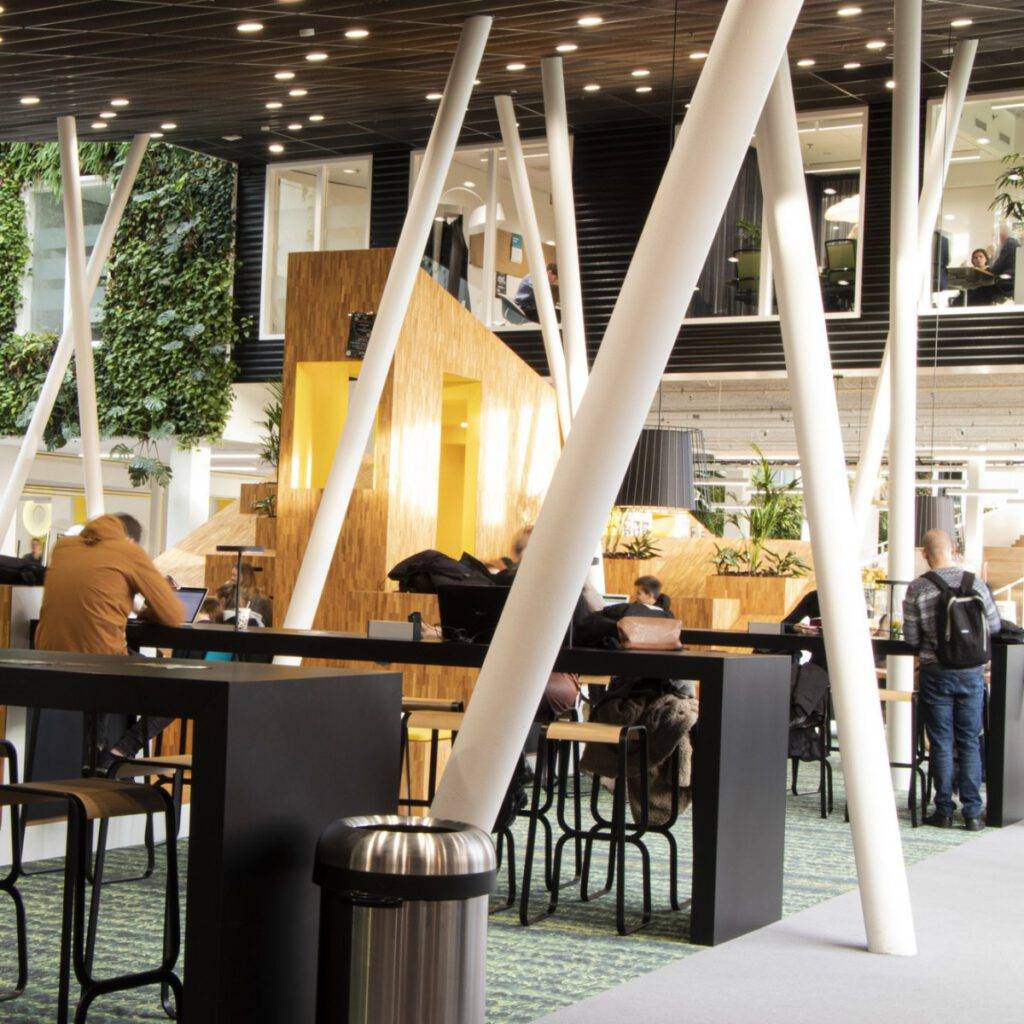 Expand Your Study Boundaries
NHL STENDEN
_____
HOT STUDY SPOTS: STUDY CORNER
One study spot that cannot be forgotten as a Hot Study Spot is NHL Stenden University of Applied Sciences. This university campus offers a lot of great facilities for students. Ahead, we will take you on a tour in and around the building
NHL Stenden is comprised of two building, which have completely different atmospheres respectively, connected by a central outdoor quad. First off, let's start with the South (former Stenden) building.
When walking towards the central square from the main road, the South building is on your right hand. From this side it might look fairly closed off, but when entering from the other side (accessible through the parking lot and bike shed), this building has a light and welcoming look and feel. Inside the building you are welcomed by dashes of colours.
Within the building there are lots of different study spots where you can work both individually and in groups. There are big, round tables, study booths in which you can sit with a maximum of four people, longer tables, and homey corners with armchairs and coffee tables. There are power outlets on the wall in some spaces, as well as at the long tables, and in the study booths.
The North (former NHL) building is on your left side of the central square when coming from the main road. From the outside, this building looks very light and open as there are floor-to-ceiling windows. As soon as you step inside, you are welcomed by warm colours and a cosy/home-like radiance, with couches and chairs in almost every corner! There are great spots for both individual and group works, which include but are not limited to study booths, tables, couches, chairs, and even swings. In the North building there are also power outlets on the wall in some spaces, as well as at the long tables, and in the study booths.
The WiFi at NHL Stenden operates through Eduroam. This network often works safe and fast, which is convenient for students. If you don't have a provided login with Eduroam, there is a guest network available. This guest network will not work as fast as the Eduroam network.
For the all-important study breaks, there are canteens and several cafés in both buildings. Food and beverages are typically priced between €1 and €5, which can be considered as student-friendly. Another option that is arguably even more student-friendly is using one of the coffee machines located around the campus. These offer coffee, cappuccino, and hot water for free. Nevertheless, these beverages are not as delicious as the paid options, so it is recommended to visit one of the cafés if you prefer good coffee over free coffee.
One downside of this location is that the buildings may be busy during school hours. Therefore, for individual work, noise cancelling headphones might help you concentrate.
Taking everything into consideration, NHL Stenden scores 4 out of 5. As this Hot Study Spot is a university, it offers students all resources necessary to work on their assignments. Although it might get a bit noisy sometimes, we would recommend you to visit this place for your next study session!
What are your experiences with this Hot Study Spot? Share with us on our social media accounts! Is your favourite study spot still missing on our list? Let us know and we might review it next!
KEY POINTS
_____
MOON
Address Rengerslaan 8-1
Opening Times Mon – Thu: 08:00 – 22:00
Fri: 08:00 – 18:00
Busy hours Weekdays: 10:00 – 15:00
Price range €
Working style Group & Individual
Atmosphere 4/5
Quietness 3/5
WiFi 4/5
Coffee 4/5
Resources 5/5
Overall rating 4/5
Previous
Next