Sustainability
Leeuwarden and its Street Art
Urban Corners | Lifestyle & Culture
Many people might not know Friesland as an artsy place. However, street art can be found all around the city. Big or small, art of all sizes is there to be admired. Some paintings might be there just for the looks, but others carry an interesting story. With so many pieces of art, it is going to be hard to cover them all. But we'll talk about some of our favourites and where to find them. Just keep in mind that street art changes occasionally, so some of the ones described here, might not be there anymore in the future.
Adress: All around Leeuwarden
Opening times: Open at all times
Pricing: free
Atmosphere: urban, artsy
Miyamoto Musashi
This piece was created by Klaas Lageweg on behalf of the Karate school Iryoku, which is located right behind it. The samurai in the painting presents Miyamoto Musashi, who was a Japanese philosopher, writer and sword fighter. This creation represents Miyamoto Musashi´s battle against a dragon. It can be found at Amelandshof, near the historical Bonifatius church. Fun Fact: The church was not very pleased with the art at first. Their opinion changed when the artist pointed out the reference to St. George and the dragon.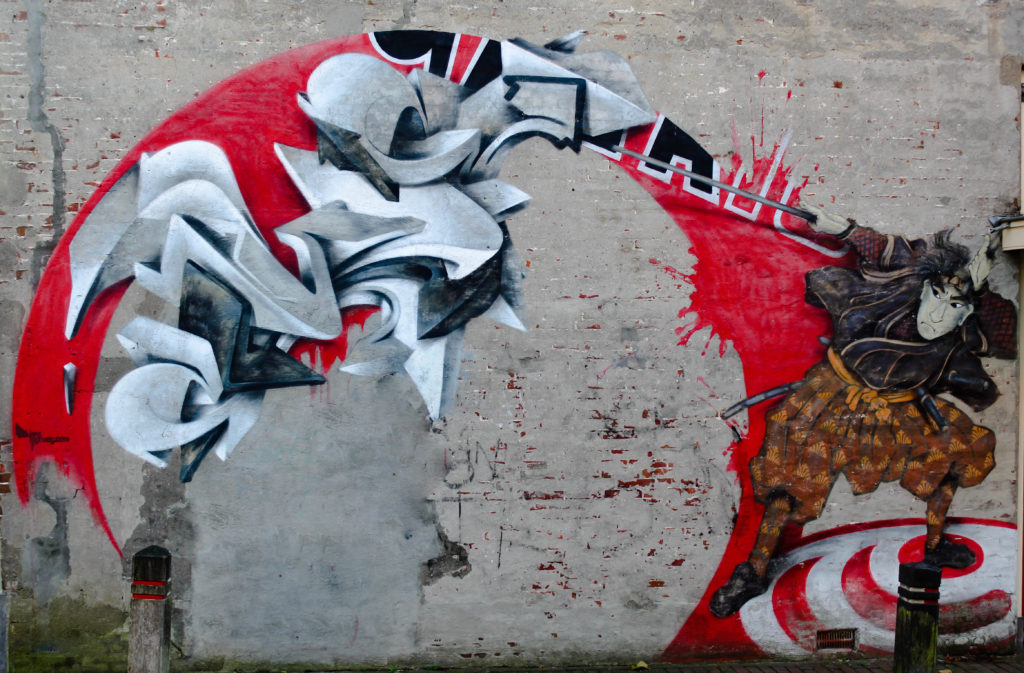 Saskia van Uylenburgh
Another creation by Klaas Lageweg is located at the Groeneweg 3, close to the Prinsentuin. This painting features Saskia van Uylenburgh, who was born in Leeuwarden and married to the famous Dutch painter Rembrandt van Rijn. The part on the right is a recreation of a sketch Rembrandt made for his beloved one, after their first night together. The left part shows a pixelated version of Saskia, designed by Klaas Lageweg. In this work, Lageweg mixes the realistic work of Rembrandt with modern art. What seems to be a pixelated, low-quality image, turns into a wonderful portrait.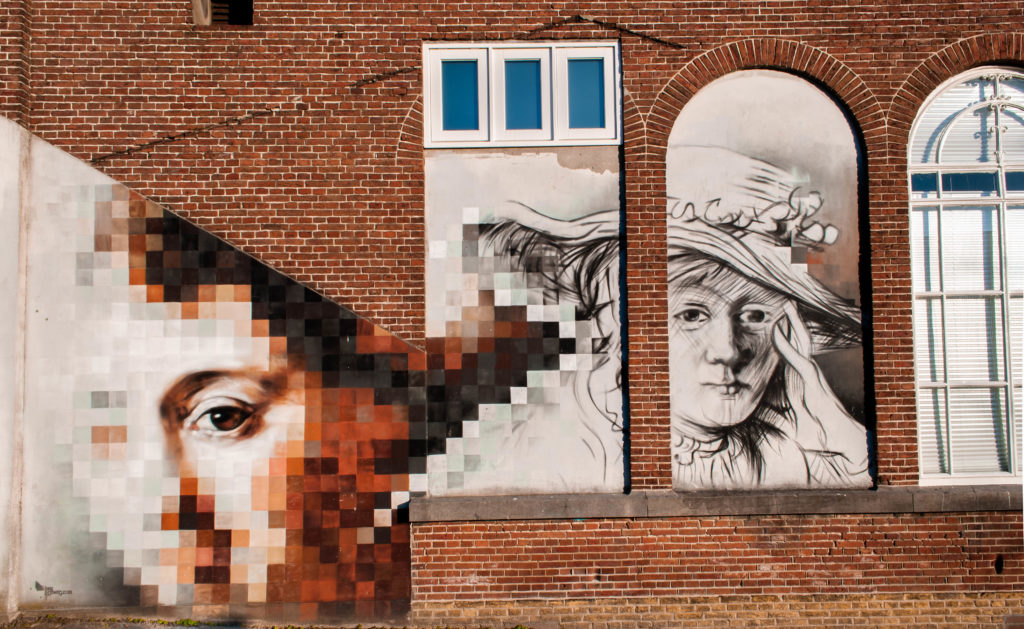 Pixelated bird
Here, another piece created by Klaas Lageweg can be seen. The pixilation is a really classic style from this artist.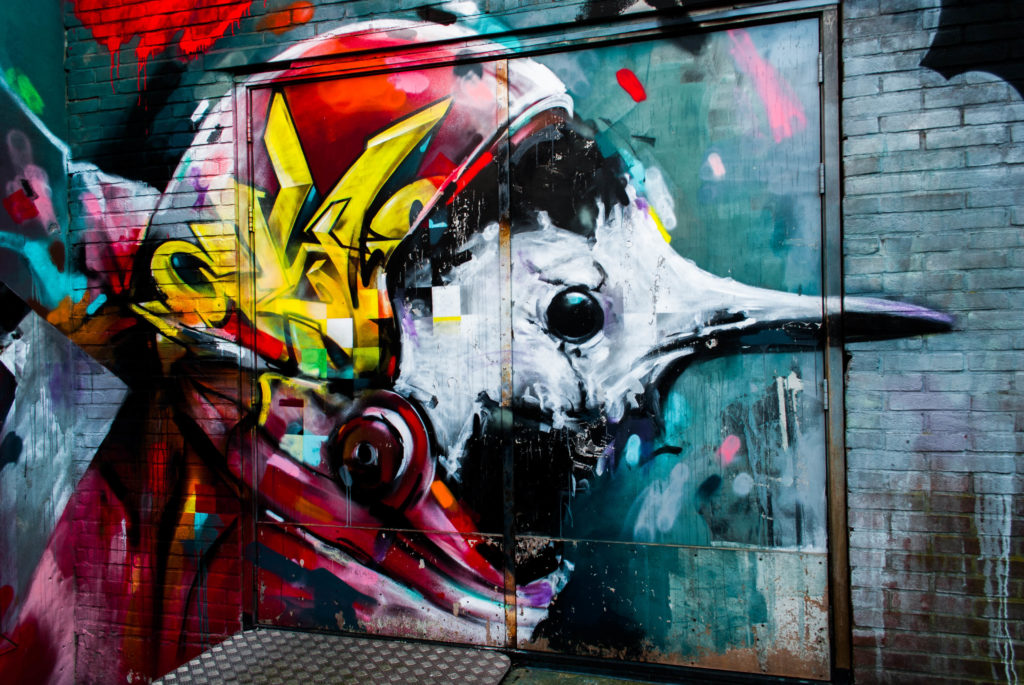 Camminghaburen train station
The Camminghaburen train station never looked so good before. In 2019, a decision was made to clean it up and renovate it. The main purpose of the project was to add LED lighting to make the tunnel not only safer, but also more sustainable. This was the perfect opportunity to make it more appealing and that is where Graffitiplatform Leeuwarden came into play. Walking underneath the tunnel, you'll be surrounded by all kinds of beautiful street art. The main colour is green, refering to the sustainability the renovated tunnel stands for.
Writer's block
Writer's block is an organisation that creates all sorts of graffiti and street art. It has a wide variety of artists from around the world. Their main goal is to make the environment more beautiful piece by piece. One of their main events was parking garage de Klanderij, which we already covered in a previous episode of Urban Corners. However, de Klanderij was not the only location they gave colour to. The writer's block mural festival allowed artists to create some beautiful pieces all around Leeuwarden.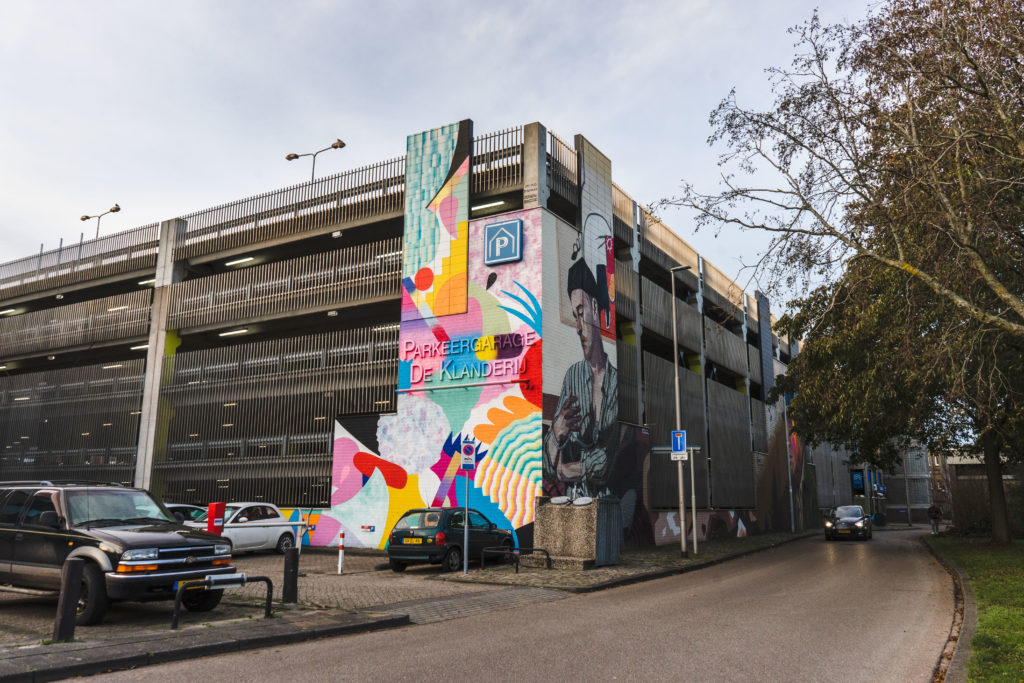 Marshallweg
The three upcoming murals are examples of what the writer's block mural festival had to offer. These murals are part of the initial project which was carried out during the festival and can be found at the Marshallweg. Especially the first art piece is unique for Leeuwarden since it was designed by Harke Broersma, an artist from Friesland with and some help from MEGA, ROMEO and ENOS who painted the right side of the mural. As for the painting itself, it shows the diversity that Friesland has to offer. You can see all kinds of things from around the area: local animals, de Oldehove, a traditional sailing boat and more. As for the remaining two walls, they were created by Roy Schreuder and Joram Roukes.
Memories of Green
This colourful piece was gifted to Leeuwarden by the city of Heerlen and IBA Parkstad. The reason for the present was the 'places of hope' exhibition which focuses on the future of the Netherlands and this mural has a beautiful message to present. 'Memories of green' is shows memories of playing in nature. The goal is to spread the message for current and future generations, to pay attention to how we treat our environment. Are you interested in this mural? It can be found very close to the city centre at Zwitserswaltje 2D.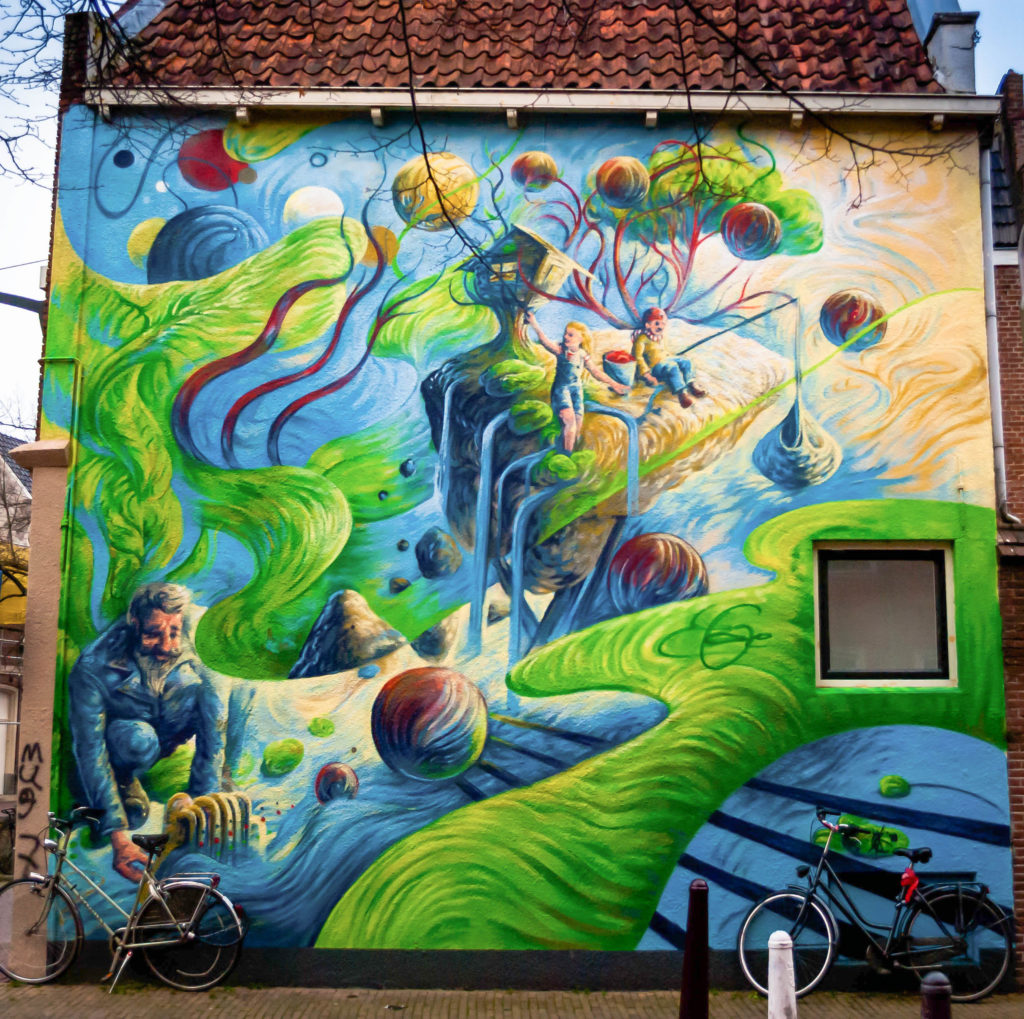 058
This beautiful 058 art is another piece created by Harke Broersma. Having an artist from around the area is perfect because of all the existing pieces associated with the city of Leeuwarden. The number 058 is the city's geographical code, the main colours are blue and yellow and the local animals are mainly birds. The artwork can be found at Zuidersingel 3, which is very close to the train station near the city centre.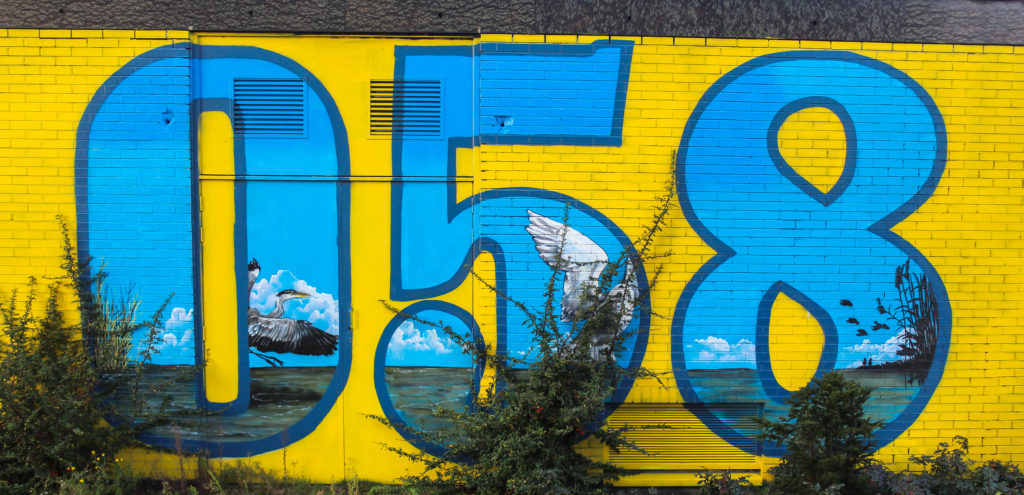 Zuidersingel
This building at Zuidersingel 16 is located very close to the train station and contains two beautiful pieces of art. Roy Schreuder was asked to work his magic on here, but not all by himself. In addition to painting one wall himself, Roy had the opportunity to choose an artist for the second wall. Having worked with him before in Leeuwarden and being a fan of his work, Roy Schreuder decided on a German artist who goes by the name of 'Flying Fortress'. Roy's wall can be seen on the right and shows animals that can be are often roaming around the Frielsand region. The top part of the building contains airborne animal species, followed by land and lastly water animals. As for the left wall, an airplane can be seen being controlled by 'Teddy Trooper' which is an iconic logo associated with 'Flying Fortress'. A fun little detail is that the airplane does not contain any weapons, instead it has spray cans attached to it.
You have now seen a lot of beautiful art found in Leeuwarden. However, there is a lot more to discover, but we will leave that up to you. Taking a stroll around the city centre will be a good start to find some amazing murals and street art compositions!
No comments to show.