Student Life
How To
Hot Study Spots: Grand Café Z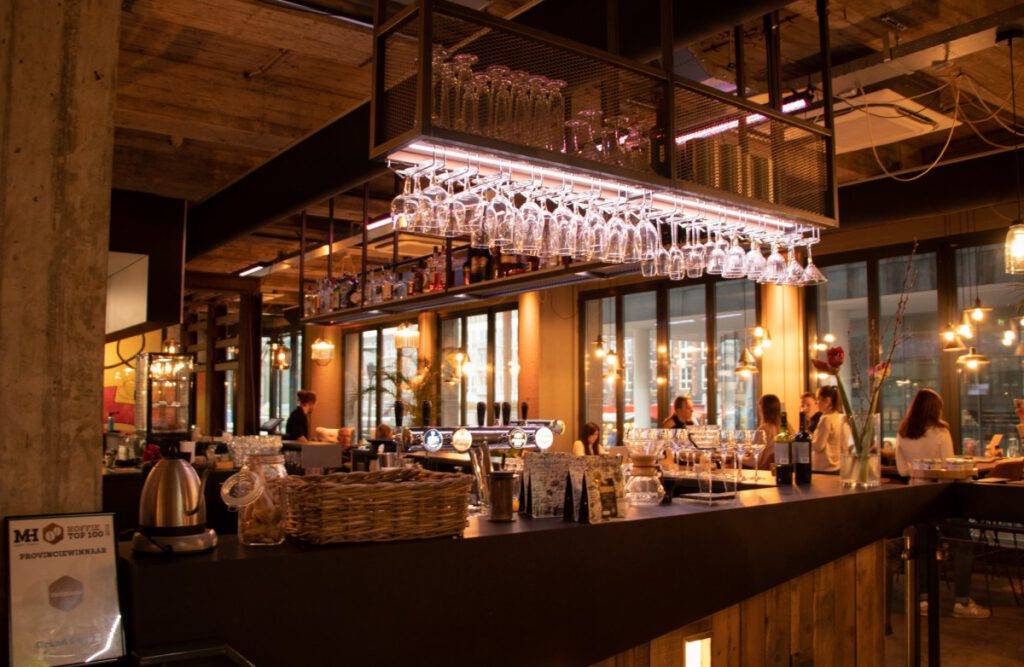 The Hidden Corner
GRAND CAFÉ Z
_____
HOT STUDY SPOTS: STUDY CORNER
Did you know that there are 5 restaurants around Wilhelminaplein?
One of them is Grand Café Z. Curious about what this café has to offer you during your study days? Keep reading for a personal tour!
Next to the Fries Museum we find our next Hot Study Spot. In October, Grand Café Z re-launched under the events agency 'Smart Camels'. As it is located in an old water pipe building, this location has a rustig, warm, and cosy look and feel. After walking up the stairs, you will be welcomed into a homey locale, including comfy couches and chairs on one side and a bar on the other side.
As this location is not extremely busy most of the time, you don't have to worry about getting distracted during your individual study sessions. This café offers you enough places to sit; however, if using your laptop or another electronic device, we would recommend you sit in the back of the café. This is because power outlets are scarce at the front.
Project groups are also very welcome at Grand Café Z. In the back of the café you can find large suitable study booths – which can be used for individual work as well – big tables, and two rooms that can be closed off, and are convenient for smaller groups with a maximum of four people. It is possible to just walk in without reserving the room to get working on your study projects! There is also the possibility to book bigger meeting rooms in the building; however, the prices for these vary from €39 per hour to €325 for an entire day, and therefore are not very student friendly. When it comes to WiFi, Grand Café Z has you covered! Just ask for the password of the 'Zaailand Guest' network, and you are good to go! Documents can be downloaded quickly and safely with no hassle.
Longing for breakfast, lunch, dinner, or just something to boost your energy? Grand Café Z offers a wide choice of foods and beverages, which also have a student-friendly price tag. The menus are currently only available in Dutch, but the employees are happy to help you translate. As the location is rated as number 15 in the coffee top 100 in 2018, the coffee is excellent.
Concluding, this Hot Study Spot is rated as four out of five. It is a great place for individual and group work, it offers you all the necessary resources, and distractions are not a concern here. The only pitfall is that the power outlets are mostly located in the back, which might be a bit noisier in terms of group work. We would recommend you to explore this study spot and visit Grand Café Z for your next study session!
What are your experiences with this Hot Study Spot? Share with us on our social media accounts! Is your favourite study spot still missing on our list? Let us know and we might review it next!
KEY POINTS
_____
GRAND CAFÉ Z
Address Zaailand 106
Opening Times Mon – Wed: 09:00 – 18:00
Thu – Fri: 09:00 – 22:00
Sat – Sun: 11:00 – 22:00
Busy hours Weekdays: 12:00 – 14:00
Price range €€
Working style Group & Individual
Atmosphere 4/5
Quietness 5/5
WiFi 4/5
Coffee 3/5
Resources 4/5
Overall rating 4/5
Previous
Next