Student Life
How To
Hot Study Spots: Moon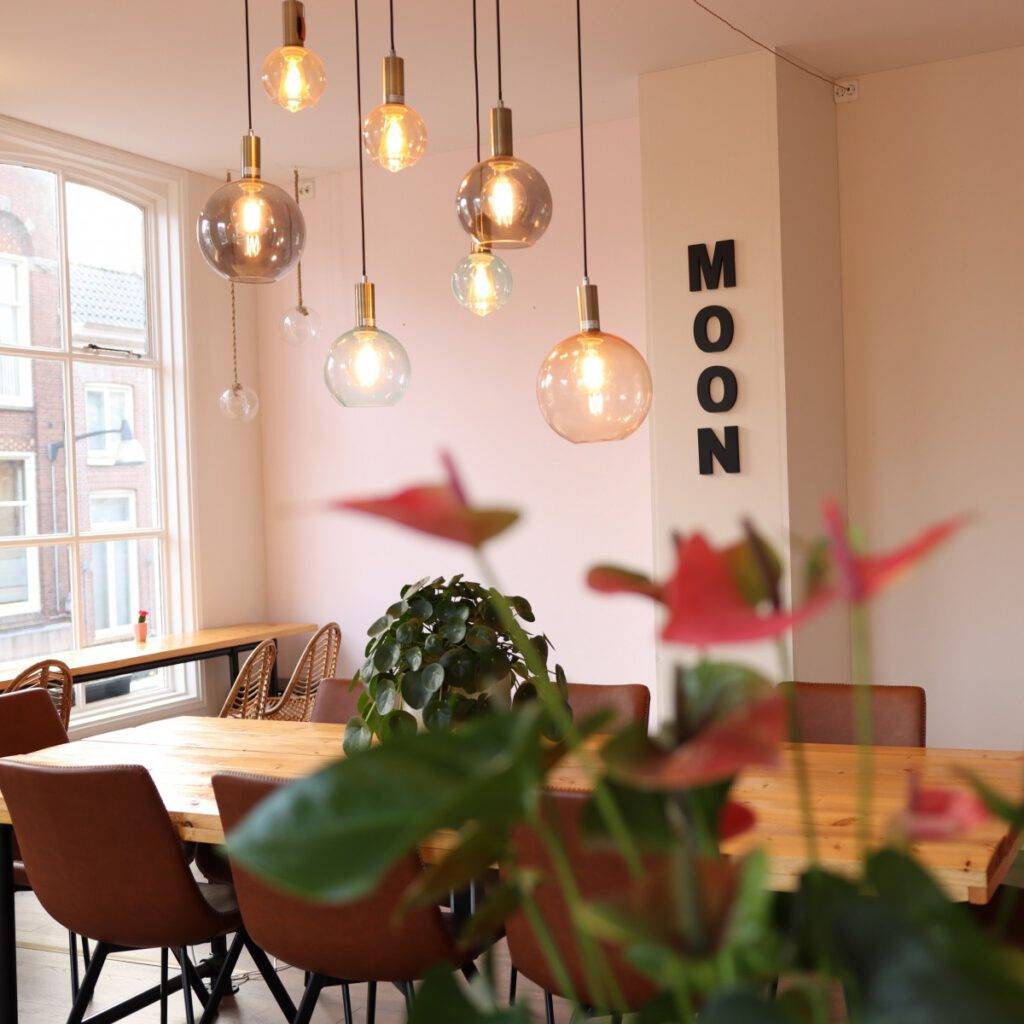 Pretty in Pink
MOON
_____
HOT STUDY SPOTS: STUDY CORNER
Walking into Moon is like entering every little princess' daydream: flowers hung on the walls, lights in star-like constellations, plushie pink chairs…to put it simply: a dream in pink.
Even so, Leeuwarden's most instagrammable café can also be your next favourite study spot.
In the centre of Leeuwarden, you will find the café Moon, known mainly for its pink interior and aesthetically-presented shakes and lattes. Through this as well as their use of as many organic and sustainable products as possible, Moon wants to – according to their own testimony – make your pink dreams come true.
Stepping into Moon, the smell of coffee and warm croissants is instantly recognizable. Small tables for one or two people are aligned on the ground floor across from the bar, behind which you can find the menu written on the wall. On the upper floor, bigger tables fit for more people can be found. Large windows on both floors ensure lots of light and a bright working space. Both floors are arranged in an open manner, with a lot of space around the tables and sitting spaces.
Overall, Moon offers a cosy atmosphere with background music (which is not too loud to concentrate and get work done). Nevertheless, if you prefer less noise and bustle while you work, we would suggest visiting the top floor: here the music is a bit toned down and you can escape the busy atmosphere of people entering and the food being prepared downstairs.
In terms of necessary resources for a productive study session, Moon can provide the essentials you need: breakfast and lunch options, as well as different cakes and other sweet confections for your mid-study snack. Coffees, lattes, and teas are offered as well. Charging points can be found scattered across both floors, so your battery won't stop your study session short. Lastly, there's no need to panic if you can't find the Wi-Fi password, just ask one of the friendly staff members and they will gladly help you get online.
Particularly if you are working solo or with a study buddy, Moon is the place for you. Working on a report, reviewing some notes, or preparing presentations slides turns into an aesthetically pleasing and productive afternoon. Our advice: visit this study spot during the week for a quieter and more relaxed atmosphere to avoid the busy times on the weekend.
For us, Moon is a solid 4 out of 5. This study spot is rather fitting for individual studying, or working in small groups. In a cosy and cute atmosphere, you can enjoy drinks and food on a medium pricing level, and take that cute Insta-worthy photo to share with your friends. Alternatively, if you like to set up your study-nest in a secluded corner to avoid peeks over your shoulder, Moon might not be your style.
What are your experiences with this Hot Study Spot? Share with us on our social media accounts! Is your favourite study spot still missing on our list? Let us know and we might review it next!
KEY POINTS
_____
MOON
Address Kelders 35
Opening Times Mon – Sat: 09:00 – 18:00
Sun: 10:00 – 18:00
Busy hours Every day during lunch time
Price range €€
Working style Group & Individual
Atmosphere 4/5
Quietness 4/5
WiFi 4/5
Coffee 3/5
Resources 3,5/5
Overall rating 3,5/5
Previous
Next