Sustainability
A Hidden Spot for Paulina's Cables
2nd Home | Lifestyle
Living on your own often gets related to having messy and untidy rooms. However, even after cleaning up the living room, the same thing keeps appearing: the many cables. Cables for the TV, lamps, chargers, the WiFi router and more all come together at the wall outlet. Those cables create a messy look, and Leisure & Events student Paulina wants to get rid of that in her living room. The problem is that you can't just get rid of cables since they are often being used, so another solution is required. That is why Paulina reached out for our help and we were excited to come up with the perfect creative solution for her cable situation!
KEY-POINTS
Name: Paulina
Study: Leisure and Events Management
Nationality: German
Needs Help with: Her Messy Cables
Goal: Make Her Cables Look Like Decoration
Time: 1-2 Hours
Effort: ●●●○○
Difficulty: ●●○○○
When redesigning and pimping up your rooms or an item of yours it is very important to us to make sure that it fits you and your personality. To make sure that we know exactly how to create an item according to your wishes and your imagination, we create a mood board beforehand. A mood board is an assembly of different pictures, materials, and pieces of text that are supposed to portray a certain mood, look or feel that your item or room is supposed to radiate after the makeover.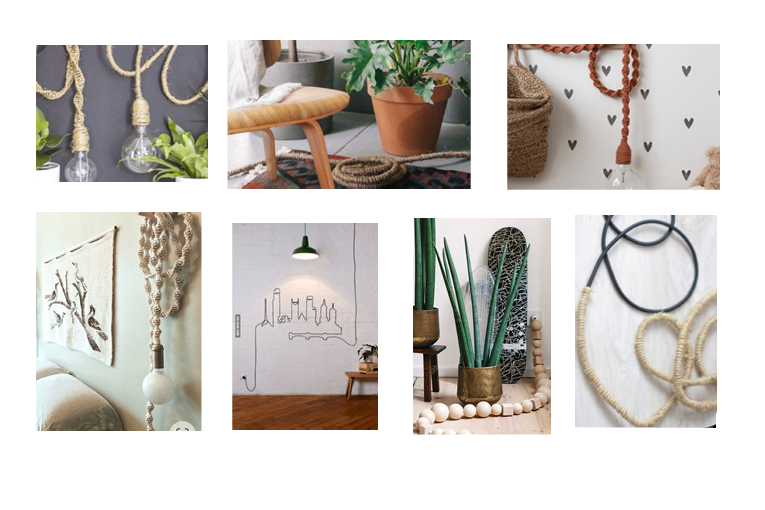 While creating Paulina's mood board, 2nd Home noticed that it was not easy to find the perfect solution. Hiding the cables completely was going to be difficult in Paulina's case, so the idea came up to cover the cables up so it would look like decoration instead of cables. The mood board gave us the inspiration to use rope to cover the cables, and so we did. We turned the annoying and messy cable spot into a beautiful decoration for her room.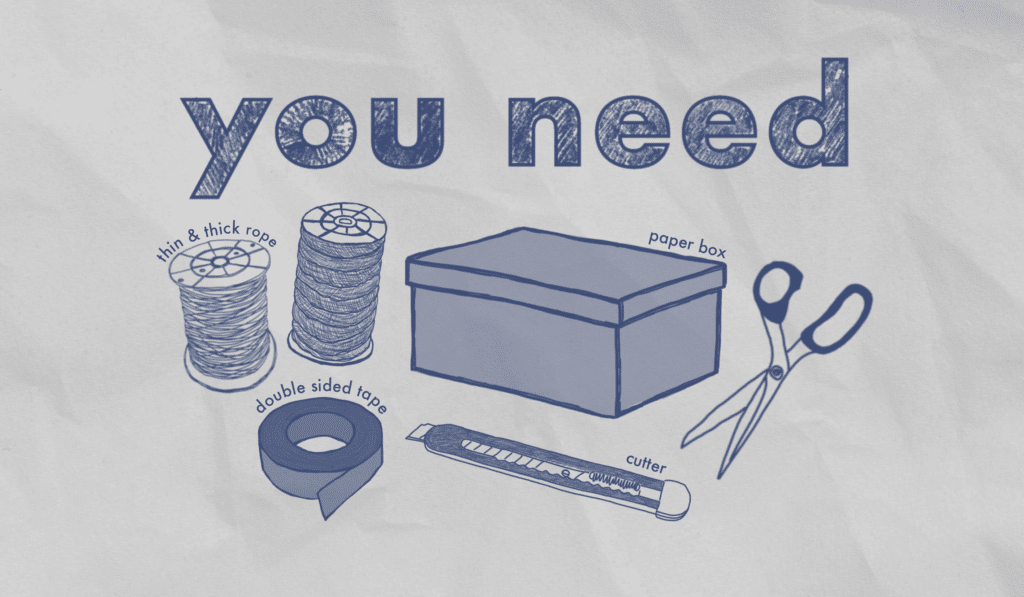 For this project, you do not need a lot of different materials. You will need to have a (cardboard) box which you can put the power strip with all the cables in. We used a white cardboard box from HEMA. While putting up the box, you have to use a small knife to cut holes. Furthermore, you need multiple types of rope with different looks. We used thick and less thick rope for variation. The rope is used to decorate your cables, but also to decorate your (cardboard) box, for which you will need double-sided tape and scissors. To decorate the cables, we used a Makramee technique. With this technique, you firstly place the one side of the rope over the cable with a loop shape. Put the other rope over that one and bring it to the other side of the cable, moving it underneath the cable. Pass this rope through the loop you made first and pull. The video also shows how we use this technique. If you would like to create an actual decoration spot like we did, make sure to get a small plant, candles, or whatever else you like, and put them on top of your new cable box!
To turn your messy cable spot into a new decoration for your room, we recommend you to follow the next steps:
1. Draw circles on the back and the small sides of your box and cut them out.
2. Build up the box according to the instructions.
3. Cut off a few pieces of rope, the length of your box, and stick them on it.
4. Decorate all of your cables with rope.
5. Place the box with the decorated cables in the right spot.
Now, Paulina does not have the problem anymore that her room keeps looking messy after cleaning up. The cables have turned into decoration that looks very nice.
We are very happy that we were able to help Paulina with her problem, and we hope that we might have inspired you to recreate this while having the same problem! Do not forget to send in your own videos and ideas, and we will hopefully see you guys in the next blog!
---
DO YOU WANT TO PARTICIPATE?
Then send us a short video of you and your challenge for us to: